Wuhan's "golden avenue" will create the highest industrial mu output value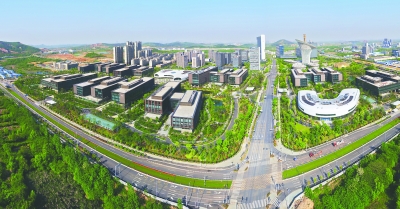 Optics Valley Future Technology City Area
Photo by Changjiang Daily reporter Zhou Di
Five years ago, Zuo Ling Avenue, located at the east gate of Wuhan, was surrounded by farmland and forests, and the bustling city stopped here. Three to five years later, the area of ​​Optics Valley East will have an annual output value of 100 billion yuan. According to the output ratio, it will create the highest industrial mu output value in Wuhan.
Not long ago, the Municipal Bureau of Statistics released the Wuhan High-quality Development Index: from 2013 to 2017, the high-quality development index has steadily improved, with a cumulative increase of 10.7%. Among them, the innovation-driven index increased by 14.2%, ranking first in five areas.
Innovation upgrade
World-class industrial clusters are densely distributed in China
Today, along the 8-km Zuoling Avenue, strategic emerging industries with a total investment of more than 400 billion yuan, such as the National Memory Base, Wuhan Huaxing Optoelectronics, and Wuhan Tianma Microelectronics, are distributed.
3 years ago, Huaxing Optoelectronics established a global high-end small-sized display panel R & D and production base to produce high-resolution flexible and foldable smart phone display panels. The first domestic 6th-generation flexible LTPS-AMOLED display panel production line focusing on folding displays was born here.
Adjacent to Wuhan Huaxing Optoelectronics, domestic display giant Tianma invested in a production line 2 years ago to create small and medium-sized displays. Along this avenue, there will also be settled various technological innovation projects such as Lianying Medical and Douyu Town.
The Silicon Valley town will be built into an international innovation center and an overseas talent incubation center; not far away, the third phase of the Laser Research Institute including the entrepreneurial building and incubation center will be completed …
In a short period of time, this innovation avenue, known as Wuhan, has emerged as a new city of science and technology and is shaping the city's "golden avenue." With so many innovative companies, the output density will be amazing.
The 8-kilometer-long road is strung by 400 million yuan of industrial investment projects. Even in high-tech zones such as Zhongguancun and Shanghai Zhangjiang, it has been difficult to find such a "golden avenue" in recent years. The high intensity of investment per mu will release huge output effects. Optics Valley related sources introduced that after 3 to 5 years, a new type of display industry chain will be formed, and the output value of this avenue will reach 100 billion yuan.
According to reports, in addition to Zuo Ling Avenue from north to south and Gaoxin 4th Road extending from west to east, there are also companies such as Huagong Technology, China Information Technology, Zhongyuan Electronics, Lenovo Wuhan, and Changfei. In the area of ​​Optics Valley, upstream and downstream enterprises such as chip manufacturing, new display, 5G communication, and smart terminals are gathered to form a cluster of innovative clusters, which have become Optics Valley's "core-screen-end-network" world-class optoelectronic information industry cluster Birthplace.
A person in charge of the Municipal Science and Technology Bureau said: "In order to focus on a new round of technological revolution and industrial change, Wuhan is focusing on cultivating leading industries with core competitiveness. In 2015, it began to plan its layout, aiming at high positions and calibrating the direction of technological innovation From today's point of view, this road is in return for the strong staying power of the city. "
Institutional mechanism guarantee
Helping companies grow into leaders
A few months ago, Wuhan Ruike Fiber Laser Technology Co., Ltd. succeeded and became the second laser listed company in Optics Valley.
This is a key high-tech enterprise of the National Torch Program specializing in the research, development, production and sales of fiber lasers and their key components and materials. It has a national key area innovation team for high-power fiber lasers and a national and local joint engineering research center for fiber laser technology. Globally influential fiber laser R & D, production and service provider with vertical integration capabilities from materials, devices to the whole machine.
Previously, domestic laser research has been in the experimental stage and has long relied on imports. In 2007, after the establishment of Ruike Laser, it independently developed the first domestic 10-watt and 25-watt pulsed all-fiber lasers, the first 100W continuous all-fiber laser products, and the first 1000W continuous all-fiber laser. Especially in March 2013, Ruike Laser developed the first 10,000 watt continuous fiber laser in China using laser power combining technology.
At the time, Zhou Bingxuan, chairman of the Chinese Optical Society and an academician of the Chinese Academy of Sciences, believed that this technology was an important milestone in the development of China's industry and marked that China's independent research and development capabilities of fiber lasers had reached world-class levels.
Yan Dapeng, vice chairman and chief engineer of Ruike Laser, said that the birth of this series of products broke the monopoly of foreign companies in the field of fiber lasers in one fell swoop, and directly reduced the price of imported products by about 60%. Ruike Laser has seized more than 30% of the domestic laser market, and its products are also exported to Europe and the United States, as well as Japan, South Korea and other countries and regions.
Industry is inseparable from institutional mechanisms. In Wuhan, in addition to the individual innovation capabilities of enterprises, focusing on the collaborative innovation of government-industry-university-research institutes to create a community of economic and technological innovation, this is the "strongest brain" that has bred Wuhan enterprise innovation, and Ruike Laser has also taken root from it.
The 15 industrial technology research institutes established for strategic emerging industries have conducted market-oriented cross-border cooperation and interconnectedness, making the research and development achievements of colleges and universities truly come to fruition. Optoelectronics Institute participated in the construction and was approved by the National Information Optoelectronics Innovation Center; the Navigation Institute hatched Dreamcore and other companies, reaching the international leading level in the Beidou subdivision field; Zihuan Institute was approved by the National Center for Technology Transfer, becoming the "National Best Intellectual Property "Operating institutions" … The 15 industrial research institutes have initially formed the industrial layout of "one industrial research institute and one industrial chain", which has become the most important platform for external transformation of scientific and technological innovation achievements of universities.
Transformation of scientific and technological achievements
World famous enterprises focus on Wuhan 3D printing
In the State Key Laboratory of Digital Manufacturing Equipment and Technology at Huazhong University of Science and Technology, Professor Zhang Haiou's team is developing a 3D printing technology. On the achievement transformation, he docked with the Wuhan Science and Technology Achievement Transformation Bureau to prepare for large-scale industrialization.
3D printing is a cutting-edge manufacturing technology. The biggest obstacle is that the printed materials cannot be durable and are still in the "model manufacturing" display stage. After more than ten years of hard work, the "intelligent micro-casting and forging" technology invented by Professor Zhang Haiou's team has realized the first 3D printing and forging integration in the world, printing high-performance metal forgings. This technology subverts the traditional foreign machinery manufacturing process and equipment, is expected to end the traditional heavy industry manufacturing method, significantly reduce costs, and open up a new era of green manufacturing in China that is ahead of the world. Well-known companies such as General Electric in the United States and Airbus in France have all paid attention to Zhang Haiou's technology.
"International giants are investing heavily in metal 3D printing, but there are still many obstacles to the industrialization of my technology, and I may lose the opportunity for development." Zhang Haiou was deeply worried that this technology has been applied on a small scale, but only by experiments It is difficult to quickly expand the capacity of the office. In the early stage, a large amount of funds must be invested for research and development, coupled with the industrialization of equipment costing hundreds of millions of yuan, and the length of the application route for the construction of the industrial park is difficult to find a partner for the project to land quickly.
In July last year, Wuhan was preparing to establish the Science and Technology Achievement Transformation Bureau, which will form a service department covering the entire chain of science and technology, planning, and finance, and will specialize in the transformation of scientific and technological achievements. Zhang Haiou quickly reported relevant requirements. Within a week, relevant personnel came to the site to investigate for the first time, and planned to help the technology to be industrialized. "Multiple departments of the government have collaborated to help solve the funding problem and to help resolve the construction of the park. The previous concerns have been reduced."
In mid-August, Wuhan Science and Technology Achievement Transformation Bureau was formally established. At the establishment meeting, Zhang Haiou signed a technology transformation agreement with Sinosteel Equipment Company on the spot, and the project was initially implemented. Recently, the Science and Technology Achievement Transformation Bureau is docking with Zhang Haiou and plans to jointly build an industrial technology research institute based on its team technology to carry out larger-scale technology research and development and industrialization. This technology is expected to bring thousands of A billion-level industry.
Wuhan has pioneered the country, broken the ice of the system, and creatively established the "virtual institution, physical operation" of the Scientific and Technological Achievement Transformation Bureau. For more than a year, like Zhang Haiou, more Wuhan innovations have come out of the laboratory. The Municipal Science and Technology Achievement Transformation Bureau, in conjunction with colleges and universities, successfully held 12 large-scale scientific and technological achievements transformation and docking activities, signed 499 projects with a contracted amount of 46.67 billion yuan, and released 1,111 planned transformation projects for social institutions to dock.
Changjiang Daily reporter Chen Cheng